Tagged with figure skating
book type:
recommendation:
I snapped this book up when I encountered it I don't know where because it merges guilty pleasure and scholarly writing. Many of the essays balance the two well, but some are a little inaccessible. As with most edited volumes I skimmed or outright skipped a few entries. There is a common through line of Nancy the dull ice doll who while she didn't deserve to be clubbed she wasn't much deserving of all the accolades and endorsements she received either, vs. Tonya the admittedly troubled scrappy heroine who done her competitor wrong but sadly did not achieve her full potential.
I was pleasantly surprised to see among the contributors Abigail Feder (now Feder-Kane), Barnard's Director of Institutional Support. Her essay "A Radiant Smile from the Lovely Lady" Overdetermined Femininity in "Ladies" Figure Skating is one of the most compelling in the volume.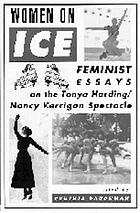 author gender:
book type:
medium:
recommendation: