Hello literary lesbian romance! Well, one of the lovers is bi, so it's not strictly lesbian. While the whole novel focuses on the relationship between Indian-Irish flight attend Síle Sunita Siophán O'Shaughnessy and butch Canadian archivist Jude Turner (spoiler: the butch is the one who sleeps with men sometimes) the book as genre fiction. Dog knows I have nothing against genre fiction, but author Donoghue had different aspirations for Landing.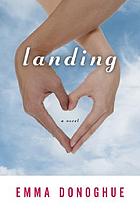 Quotations:
Before that the Turners had been broke, but Jude hadn't cared; what did she need pocket money for, when all the things she liked to do were free and she knew so many of the locals, it was like living in a book?
Writing to you reminds me that you're far away, but it also throws a kind of bridge across the abyss. It's a sad fact, couples who spend blissful lives together don't leave much trace in the archives. Whereas a love letter will outlive us both, if printed on acid-free paper and kept in a dry place.
author gender:
book type:
medium: