I've never read a book that took place in Uruguay before. All I knew about it is that Uruguayos have my favorite Spanish accent. It's like Argentina's Italian slanted castellano, but softer. Unfortunately Uruguayan dissidents didn't have a much softer time of it than their compañeros across the Rio de la Plata in the 1970s.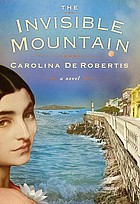 Like many Latin American novels this one is about more than one generation, so we don't get to the political strife until the last third of the book. I love the majestic sweep of magic realism. It's so standard in the Latin American fiction I've read that I wonder if that's how life really is in that region, and I hope it is.
Pajarita, the girl who was born twice; her daughter Eva, whose name is indeed symbolic, and her granddaughter Salomé are the protagonists of this tale. You know what's weird and a little disconcerting to me in the typical telling of multigenerational stories like this one is how once the next generation's character begins to come of age, her forerunners fade into the background. I would have loved to have had more Pajarita and Eva as the story became Salomé's. Maybe I'm sensitive because at my age, I would be in the background now, too, or maybe I wouldn't have existed at all because I don't have any children, much less a daughter (unless you cound Bad Bad Leroy Brown, who would make an excellent heroine, by the way).
Getting back to the novel. It's a slow read at time. I had to go back to the beginning a few pages in, because I wasn't sure I was following. But I'm telling you, hang in there. The language has all the hallmarks of great magic realism, that poetic omniscience that you somehow relate to, even if the actions have nothing to do with your life. I'm sure people will compare The Invisible Mountain, or already have, to Allende's The House of the Spirits. There are certainly some similarities, but while Allende's storytelling leaves little to complain about and is perhaps superior, I think De Robertis is more ambitious, literarily.
Bonus: there's a transsexual character and a lesbian romance
CATS: ninguno
author gender:
book type:
medium:
recommendation:
author demographic: