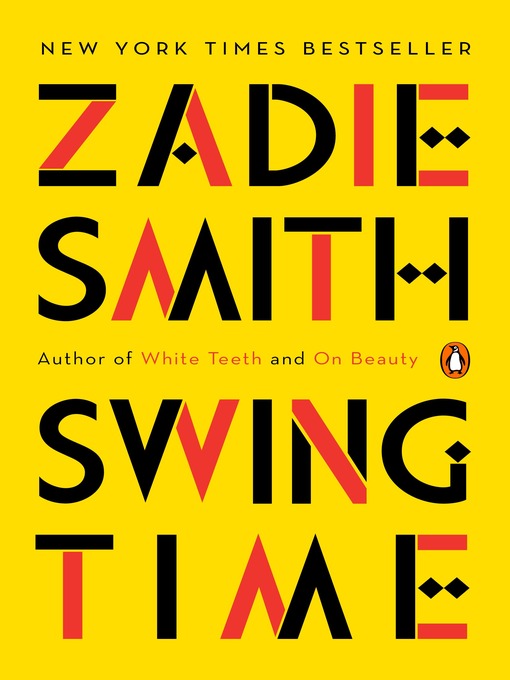 Smith is a solid writer, great images and commentary. I just think she goes on too long. I don't remember all that much about White Teeth, which I read probably not long after it came out in 2000. I do remember that though I finished it, I did have a hard time making it through. Swing Time required less fortitude, I think, but still I'm not sure it warranted being nearly 500 pages (on the ebook anyway) long.
It did provide lots to think about regardless. Like the different lives two black-white women ended up living. Does the reader attribute their differences to one having an educated and politically-minded Black mother and white father who worked for the post office and the other an indulgent white mother and a Black father who spent time in jail (and also spent time dancing with Michael Jackson)? And which woman is happier or better off? The one who travels the world as a celebrity's personal assistant, or the one who is a professional dancer for a time and then raises a family and hassles politicians? Probably neither. No one is particulary happy in this novel, which is maybe why it was too long for me and maybe means I really need to stick to YA.
Some of the passages and observations that were meaningful to me:
The class itself cost two pounds fifty, but a maternal rumor went round concerning the going rate for ballet shoes, one woman had heard three pounds, another seven, so-and-so swore the only place you could get them was Freed, in Covent Garden, where they'd take ten quid off you as soon as look at you--and then what about "tap" and what about "modern?" Could ballet shoes be worn for modern? What was modern? There was no one you could ask, no one who'd already done it, you were stuck. It was a rare mother whose curiosity extended to calling the number written on the homemade flyers stapled to the local trees. Many girls who might ahve made fine dancers never made it across that road, for fear of a homemade flyer.
The protagonist's mother is rare. She finds out about the shoes and registers her daughter for classes, where she meets her lifelong frenemy Tracey, who is the far more talented dancer. The unnamed protagonist is actually a good singer, but doesn't pursue it. Instead she ends up working for a white Australian singer/dancer/performer named Aimee. Aimee is predictably narcissistic and racially/politically tone deaf.
Foreshadowing taking care of Aimee:
I looked at my stupid feet, that couldn't do wings. I sat down and began quietly to cry. This changed nothing and after a minute I found myself pitiful and stopped. I decided to busy myself organizing Barbie's wardrobe. All her clothes had been stuffed into Ken's open-top automobile. It was my plan to extract them, flatten them, hang them on their little hangers and place them back in the wardrobe, the kind of game I was never permitted to play at home due to its echoes of domestic opression. Halfway through this painstaking procedure Tracey's heart mysteriously softened twoard me: she slipped from the bed and joined me cross-legged on the floor. Together we got that tiny white woman's life in order.
And some stuff about gender--nine-year-old boys and girls playing a chasing game where boys took turns being "it" and girls ran away, but were always eventually caught by the boy who pulled the girl's undies to the side and stuck his hand in her vagina. Girls wanted to be the objects of the boys desire? Assault? "You could tell the popularity of a girl by who got chased the longest and hardest."
Aimee gets the idea at some point to save some African girls.
By "we" she meant people like herself, of financial means and global reach, who happen to love freedom and equality, want justice, feel an obligation to do something good with their own good fortune. It was a moral category but also an economic one. And if you followed its logic all the way to the end of the revolving belt, then after a few miles you arrived at a new idea, that wealth and morality are in essence the same thing, for the more money a person had, then the more goodness--or potential goodness--a person possessed.
And so, nameless narrator finds herself in a country, that I think is also not named, but that the library catalog assigned subject headings lead me to believe is in West Africa, where she is all of a sudden white. Her eyes are open, though, and she sees what's going on with Aimee's largesse. She's indirect about it, but she manages to piss off her boss about how things go down in that village. There's a lot more to unpack about the village's inhabitants, especially the narrator's friend Hawa, something of a Tracey stand-in, not to mention some sexual politics that I won't spoiler for you.
After Hawa goes through a big change, protagonist ask's H's brother,
"Do you think she's happy?"

He smiled as if I had been caught out somehow.

"Ah yes--for Americans this is always the most important question."
So narrator is now no longer Black, she's also no longer British. But that's beside the point--are Americans' obsessed with our own happiness? And is that a catching out offense?
Having written this review, I'm now more interested in the book than when I was reading it. Maybe I'll give it another read in a few years!
book type:
medium: