I was so psyched to read Lisa See's new historical novel that I snatched it off the cataloging truck to get at it faster. With that kind of build up, it would have been surprising if I liked it as much as I expected to, so maybe it's not Shanghai Girls's fault that I didn't love it.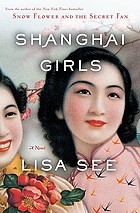 Like Snow Flower and the Secret Fan and Peony in Love it features complex women characters and meticulously wrought settings, but unlike its predecessors, Shanghai ends unfinished. I didn't feel suspense at the end, but a feeling of having been cheated or manipulated.
I don't mean to sell the book short, though. The tale of two close Chinese immigrant sisters has plenty going for it. The relationship between the two women is intense and unfolds in surprising ways as they make their way from 1930s Shanghai to navigate Los Angeles, Hoalaiwu (Hollywood), in-laws, parenting, work in China City (one of two competing Chinatowns), and the Red Scare.
book type:
medium:
author demographic:
free: