It's weird to me that Carrie Pilby seems to be marketed as a romance novel. Check out the Harlequin Teen edition cover. Although there is some dating, Carrie Pilby is not boy crazy. What she is, is crazy crazy, and seeing a shrink. A 19-year-old Harvard grad, Carrie is a little socially maladjusted, probably from skipping three grades. Her brilliant mind is inflexible, and she really can't make small talk. When we meet her, motherless Carrie has no friends and a frequently-traveling father. Her therapist gives her a to-do list and through completing the tasks on it (e.g., join something, go on a date, do things you love, etc.), she gets over some of her rigidity, superiority, and loneliness. It's surprisingly believable.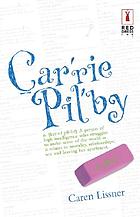 I do need to warn you that if you didn't grow up with a certain amount of privilege, you might find this book unreadable. Carrie, especially at the beginning of the book, isn't easily to sympathize with. She's got brains, money, a nice place to live, etc., and yet she's miserable. Many readers will probably want to just smack her. Being the daughter of a psychotherapist, and having grappled with whether or not my middle class problems are legitimate in a world where more profound suffering exists, I was okay with her going through her petty misery. If someone is miserable, they are miserable. The reasons for the misery may be deemed shallow to the observer, but thinking that your suffering isn't legitimate doesn't help you get past it.
CATS: none! Carrie would have been a much more sympathetic character if she'd had a feline companion.
author gender:
medium: