My summary of this not-too- far-in-the-future dystopia in four haiku stanzas:
The Department of
Homeland Security runs
amok post attack.
Hacker teens fight the
power and teach the reader
about crypto tech.
Teen reader primer
on history, politics
and the internet.
Plus boy meets girl.
Parents are dumb then helpful.
Ends with vote or die.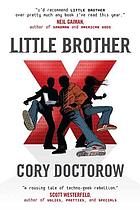 I recommend this book to teen and adult readers, but my praise of Little Brother is ever so slightly qualified. There are a few annoying things like abuse of the word "forever," which is a real pet peeve of mine.
"We struck out, four good friends, on our way to decode a clue, win the game—and lose everything we cared about, forever." p.30
"Then the world changed forever." p.32
But there are also some important realizations on the part of our young hero
"We keep acting like terrorists attack landmarks because they hate landmarks. Terrorists don't hate landmarks or bridges or airplanes. They just want to screw stuff up and make people scared. To make terror." p.72-73
And historical tidbits
"It turned out that she'd covered the crypto wars, the period in the early nineties when civil liberties groups like the Electronic Frontier Foundation fought for the right of Americans to use strong crypto as a munition and made it illegal for anyone to export or use it on national security grounds. Get that? We used to have illegal math in this country." p.267
SPOILERS
Gloriously, there is some serious fucking with the cops in a demo, but for me that's ruined at the end when the kids become voting advocates.
"Talk to your neighbors. Make them promise to vote. Make them promise to take the country back from the torturers and thugs." p.363
Doctorow's book flap bio ends with "He hopes you'll use technology to change the world." What, like Diebold, a tool that combines technology, voting, and changing the world? Heh.
author gender:
medium:
recommendation: