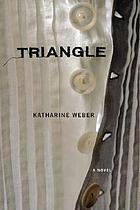 When it comes to online reviews, if I don't have something nice to say, I try not to say anything at all. Unless the book makes me really mad. I should have put Triangle down when I realized it wasn't going to meet my admittedly high expectations of a book about the Triangle Factory Fire (I love union maids!), but even though I kind of hated it, it was readable enough.
It's hard to know if the protagonist is Rebecca Gottesfeld (granddaughter of the last living survivor of the fire, Esther Gottesfeld) or her partner George Botkin. Most of the book seems to be about Botkin and his musical genius, but the central plot element is the not so mysterious mystery of the truth behind Esther's escape from the burning building. They're both fairly likable, even if George is a too perfect. A third character, with per the inside cover description, "her own mole-like agenda" and provocatively named Ruth Zion is as unlikable as can be. And she's a radical feminist.
Read at your own risk!
author gender:
book type:
medium:
recommendation: