Tagged with archives
recommendation:
book type:
medium:
author gender:
Event:
Archivo-Punk: on the Politics of Preserving Riot Grrrl & Girl Zines
Disclosure: I'm friends or friendly with about half of the contributors to this book, for which I also wrote a chapter. I think I'd have loved it even if that weren't the case, but then again it couldn't have not been the case because the world of feminist archivists isn't as big as you might imagine--or hope!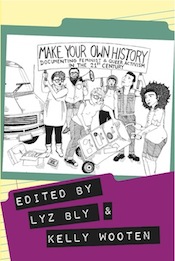 recommendation:
author demographic:
book type:
medium:
author gender:
Abstract:
As we know from Laurel Thatcher Ulrich, well-behaved women seldom make history. Neither do their lives and contributions, nor do those of even their ill-behaved counterparts get collected, preserved, and made available without the deliberate efforts of those who select and describe archival and special collections materials.
Here are the slides for a talk I'm giving at Rutgers on Thursday:
Co-presenter:
Patty Falk, Bowling Green State University
Kathryn DeGraff, DePaul University
Jeremy Brett, Iowa University
Event:
Organizing Anarchy panel, Midwest Archives Conference
free:
http://radicalreference.info/radicalarchivesredux
Radical Reference presents a second evening about how community history is documented and celebrated. Archivists and activists will present parts of their collections and discuss how their work keeps the struggle alive.
Monday, April 26
7:30pm
Brecht Forum
451 West St (between Bank & Bethune Sts)
NYC
$6/10/15 sliding scale (no one turned away)
Details about our first Documenting Struggle.
Pages