I've read this book a bunch of times, the first of which was when I was 9. I needed a book to read and asked my dad for a suggestion. Vonnegut is what he gave me.* I reread BoC in order to write about the experience of reading it at such a young age for Celia's comp zine Atlas of Childhood about children's books.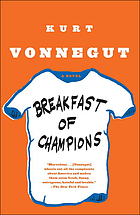 Stay tuned to AoC #3 for my take on it.
CATS: surprisingly, given the wide cast of characters, no
*At least that's how I remember it.
Quotations:
"Every time you went into the library," said the book, "the Creator of the Universe held His breath. With such a higgeldy-piggeldy cultural smorgasbord before you, what would you, with your free will, choose?" p. 263
author gender:
book type:
free:
recommendation: