Riches to rags story of a 14-year-old on the cusp of graduating from middle school. If you have a hard time sympathizing with poor little rich girls, this might not be the book for you. It's not the worst read, though, and the ending is a little surprising.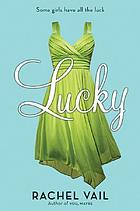 It's the first in a trilogy, each in the voice of a different sister. Phoebe is the youngest of the Avery girls.
CATS: how can the protagonist be considered lucky if she has no cat?
author gender:
medium:
book type: