The second part of Maus is even more moving than the first.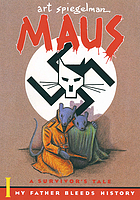 Like Part I, it is as much about Spiegelman's relationship with his aging, stressed out, miserly, neurotic father as it is about the horrors the elder Spiegelman endured at Auschwitz.
The present day elements of Spiegelman's grief over his parents' lives and death along with the unexpected stress brought by Maus's critical and commercial success show him with a mouse mask, rather than as an actual mouse. If you have a copy of the book handy, I'm talking about page 41 where he's at his drafting table surrounded by flies with a pile of naked emaciated mouse bodies on the ground. That killed me.
I guess it's telling that to me that is one of the most powerful parts of the book. But the concentration camp part, how do you take that in? It's like Vladek (the father) observes when he gets away and finds himself in a German village, life was still going on, and had been the whole time.
author gender:
book type:
free:
medium:
recommendation: