Comprised of Skurnick and a few other writers' Fine Lines columns from Jezebel, Shelf Discovery really brings a book-junkie adult back to her book-junkie youth.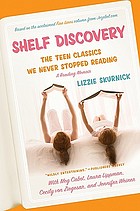 I read a few of the review/essays online via RSS, but I got more out of them on the printed page--go figure. However, they also lose something in the format change. I like a casual writing style and pop culture references, but reading 400+ pages of blog posts in a week reveals the genre's flaws that doing so online over the course of a year (?) doesn't. Just like how if I was writing this for print, I'd take the time to check when the column started, but because this is a blog review, I won't bother, Shelf Discovery suffers from a few errors that more careful writing and editing would have rooted out.
Before I go any further, let me say that I enjoyed this book and recommend it. My reviews tend to be critical, even of works that I like. Skurnick's writing is accessible, charming, appropriately snarky, enthusiastic, and she read the shit out of the books she reviews. She is a serious authority in her genre, and I love getting to hear from a hardcore expert in a non-academic voice. She is non-judgmental, but not uncritical.
My main wish for this book is that it had been more memoir, as the title suggests that it could have been. Skurnick groups her columns by themes, with a little introduction for each section. The intros seem tacked on and aren't as successful as they could have been. They're there to impose order, but they don't. They just add pages to a book that's already a little long. (Sorry!) I would have loved a chronological telling, though that might have been impossible to achieve, especially since clearly Skurnick probably read each of the books a minimum of five times over a 20-25 year period. So maybe fewer books reviewed, no group introduction, and some personal stories that related to each or some of them would have done a better job of turning the column into a book from my perspective.
Some notes:
I love that Skurnick doesn't know how to pronounce Ole Golly either! But I vacillate between it being like "old" as she does and rhymes with "Golly," rather than sounding like olé.
"Can you pinpoint the day when you looked at your family and realized soon, strangely soon, all of this would end." Well, not the day, but that kind of thing was on my mind throughout high school, college, and even now.
Tell Me if the Lovers Are Losers--I didn't remember it by its title, but I totally remember Hildy and her poor vision and her playing volleyball. I'm going to have to track this one down for a re-read. Weirdly, I have it conflated with The Last of Eden.
Skurnick's take on A Little Princess soothed my soul. It was my favorite book for a time...until my mother ruined it for me. I asked her to read the book because I loved it so much. She obliged and then reported that she thought Sara was too perfect. Skurnick is kinder to Sara, seeing how hard she works to maintain her imagination, her kindness to her less gifted friends, and her steely resolve to be a good person.
Must make sure we've acquired for Barnard's new LGBTQ-YA collection: Happy Endings Are All Alike. (Already on order!)
I distinctly remember reading about half of the 74 books profiled, but it could be more. Like Skurnick, I was (and am) an avid reader and re-reader. If I'd written this book, some of my subjects would have been
Ballet Shoes by Noel Streatfeild
Breakfast of Champions by Kurt Vonnegut (This book doesn't really belong on a YA fiction list, but I read it for the first time when I was nine, and as you might imagine, it had an effect on my psyche)
The Color Purple by Alice Walker
Daddy Was a Number Runner by Louise Meriwether
The Diary of Anne Frank
I Know Why the Caged Bird Sings by Maya Angelou
The Lost Prince by Frances Hodgson Burnett
The Soul Brothers and Sister Lou by Kristin Hunter
Probably a bunch more, but that's what comes from the top of my head.
CATS: Here and there, but not central
Quotations:
At 17, I was learning that fiction was the primary way I'd understand and find meaning in life, that there were feelings I'd felt and experiences I'd had that I couldn't comprehend until I read about them in books. That some kinds of love have many meanings, and the meanings change over time, the way a book changes each time you reread it. p.328 TRUE THAT.
re: mother's library school project
Using knitting needles and index cards, she and a classmate created what can only be described as a non-computerized search engine. They notched the cards with a series of holes, some open at the top. The open holes corresponded to key search criteria--author, reading level, subject matter. With the help of a numeric code, you inserted the needles into the cards and lifted; the cards that fell out were the ones that matched your criteria. p. 352 For the love of dog, READERS ADVISORY BY KNITTING NEEDLE. I don't know what could be more 21st century cool for teen librarians than that unless you could auto-tweet the results to a cross-stitch design generator.
author gender:
book type:
medium:
recommendation:
free: