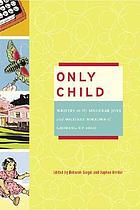 If you read anthologies (or comp zines) you know that they're always uneven in quality and focus. The most common thread I found in Only Child, both thematically and content-wise is a self-consciousness. There are more than the usual amount of asides, parentheticals, and explanations, which I think makes sense for people accustomed to having so much attention aimed their way. Many of the writers cited having all of their parents' love and affection to themselves as a childhood experience. I know when eyes are on me I feel more self-conscious, like if the Pilates class instructor praises me, I inevitably mess up the next exercise, as if to show that I'm not special, I'm the same as everyone else. But of course no one cares. In Pilates you're not looking at anyone else. That is one place where navel gazing is not only okay; it's the rule. Same with these only child authors, but they haven't had siblings beat "no one cares" into them, lucky dogs.
I'm not an only child. I grew up with a sister less than two years younger and then welcomed two half siblings in my teens when I was too old to be much affected by them, development wise, though I do admit to occasional sibling rivalry with them. That's to say I don't know what attracted me to this book. It just seemed interesting, I guess. I was floored when one writer's story closely paralleled my own experience as the daughter of a shrink:
"My parents are magicians, capable of keeping women from walking into lakes and men from leaving their wives. Sometimes whole families come to see them. Sometimes there's screaming. More often, crying. My room lies directly above the office, and at times, after the door closes, I climb the stairs, go into my room, and jump hard, up and down, on my bedroom floor."
co-editor of Girl with Pen fame Deborah Siegel, "Triangulation: a Love Story"
I too pounded on the floor above my mother's office, especially if she'd gone over time, and like Siegel, I had an "other mother," though mine was called Doll Mother.
Her co-editor, Daphne Uviller also raised something I could relate to, or rather not relate to, in her essay, "Dodging Laurie":
"I was never the pretty one or the smart one or the capable one or the lazy one or the ambitious one or the chatty one or the quiet one. I got to be all those things anytime I wanted. ... I've never had to be the one who _______, but not the one who _______. I am all of it or some of it, whenever I want to be. No temptation for my parents to label me, no sister who was already filling a role or would be envious if I did."
Another author gave me a glimpse of what I might be like as a parent:
"Even though he was looking right at me, I could feel his eyes being pulled helplessly back to the page, as though the printed lines were a delicious undertow. My father was forever slipping beneath the surface, leaving whoever was in the room with him all alone."
Sarah Towers, "Imaginary Enemies"
Isn't that a great description of what being a book junkie is like?
Sadly I wasn't crazy about the majority of the contributions. In addition to the editors' pieces, the more compelling pieces came from Amy Richards, Alysia Abbott, Kathryn Harrison, and (who knew?) Teller, whose essay is probably my favorite in the collection.
author gender:
medium:
book type: