aka Ann Aldrich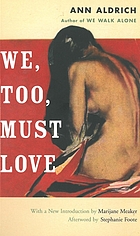 aka Vin Packer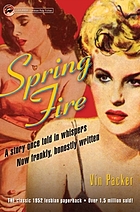 aka ME Kerr

aka Mary James and finally aka MJ Meaker


held by only one OCLC member library!
writes of her two year affair with mystery writer Patricia Highsmith who also wrote--as Claire Morgan--the lesbian romance (noted for its happy ending--not that kind of happy end, gutterbrain!) The Price of Salt.

Meaker wrote this book forty years after the romance ended and after a short reunion with her former love, now something of a bigoted drunk, if she hadn't always been. The NYC lesbian scene in the late fifties/early sixties seems to have been lively, but closeted. I liked getting this "back in the day" look at New York via a very specific lens, as opposed to the old geezer pontificating that one sometimes encounters. You know what's weird about this book, unless it was Meaker's choice to go with a small press, that someone who is a HUGE writer publishes her memoir under a lesbian press. It may well have been her choice, or the logical place to go with this story, or the publisher least likely to over edit, but I wonder if it's a sad statement that such a successful writer wouldn't publish her memoir with a big house. I could well be reading too much into it. Given all of her aliases, Ms. Meaker may just be a hardcore compartmentalizer. I wonder if it would affect her popularity with teen and children's audiences (i.e. the kids' parents) if ME Kerr and Mary James were openly gay.
But getting back to Highsmith...it's a straightforward account of Meaker's time with Highsmith. Some of the writing feels a little...old fashioned? but it's an absorbing enough read. People who like historical fiction, as well as memoirs and lesbiana should enjoy it. Plus there's namedropping galore, if you're into that sort of thing. And who isn't?
author gender:
medium:
recommendation: