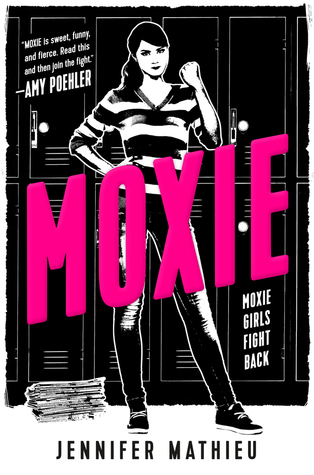 Texas teen Vivian Carter is fed up with girls being humiliated by public dress code checks* while boys can wear T-shirts emblazoned with sexual innuendos, and further abused by school administrators who encourage girls to be flattered by sexual assault. Viv's mom was a riot grrrl back in the day and has a box of her rg stuff, including zines in a box labeled "My Misspent Youth." Viv digs through it and becomes inspired.  
At the beginning of the novel, I was concerned that most of it would follow a white heterosexual girl power trope (even though Mathieu is of Latinx descent). I think it's great that Viv doesn't start off fully woke, and she learns her lessons along with readers that also weren't raised on critical race and queer theory.
Viv gets sick of her boyfriend  repeatedly saying "not all guys are dicks." It's not that Seth exactly wants credit for not participating in "bump 'n' grab" (where a boy bumps into a girl in the hallway or wherever and gropes her when she stumbles) activities, but he still doesn't get what it's like to be subject to constant unwanted sexual attention.
"I don't know if you could really get it," I say, sighing. "Not until someone plays the bump 'n' grab game with you."

"You can always play the bump 'n' grab game with me, if that helps," Seth says.
Um, no. Anyway, by the third issue of Moxie, a woman of color is on the cover of the zine, and soon after Viv is starting to have difficult conversations with classmates of color and walking in on girls making out with other girls. 
I frown. "I never thoguht about it like that. That a white girl always wins." [wins the boys' "March Madness" most fuckable girl bracket, that is]

"Well, no offense," says Kiera, eyeing me, "but you're white, so you wouldn't have."
I won't give away anything else, but I will say that the word "patriarchy" is uttered. Read if you like DIY revolution. 
*Does this really happen?!? Mathieu is a high school teacher, so she would know, but I want that not to be true. She has own experience being humiliated by a male authority figure. 
recommendation:
free: