The first non paranormal fiction novel I've read finished in ages--and it's magic realism! Daughters of the Stone, by a Puerto Rican YA librarian from the Bronx (That's hot!), tells of five generations of gifted women.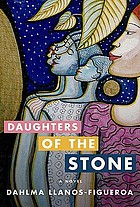 The first, Fela, is a slave, newly stolen from Africa, who seems to commune with Oshun herself. Her daughter Mati, granddaughter Concha, great grand Elena, and her great great granddaughter, the only first person narrator, Carisa each have a different manifestation of healing powers.
My main complaint about this novel is that it should have been longer. I wanted more of each woman's tale, and maybe the first person voice introduced at the beginning, to frame it. Llanos-Figueroa's ambition could have been more epic.
author gender:
book type:
medium:
recommendation:
author demographic: