I've read a fair amount of Cultural Revolution memoirs and novels. Like the others this story of Jiang's experiences in her early teens is pretty grisly: old folks humiliated and physically abused, children asked to turn against their parents, and a mob mentality ruling everything from the highest reaches of the government to the smallest minds of the neighborhood and school enforcers. The only different is that just a little bit I felt like Jiang doesn't truly get that her privilege (prior to the madness) was a bad thing. That she wasn't a star student because she was inherently good, and that the kids who ended up being red bullies hadn't previously been poor students because they were just stupid. She bemoans the negative effects of her family's wealth and history, but doesn't acknowledge that her family name and fortune had once been just as beneficial as they were now burdensome.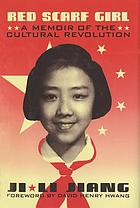 In the epilogue she gets at the big why of the Cultural Revolution and Mao worship:
Many friends have asked me why, after all I went through, I did not hate Chairman Mao and the Cultural Revolution in those years. The answer is simple: We were all brainwashed. p.265
This is the most frightening lesson of the Cultural Revolution: Without a sound legal system, a small group or even a single person can take control of an entire country. This is as true now as it was then. p.266
That's something I've been thinking about, that the people of China acted and believed the way I've seen people in religious communities headed by a charismatic figure do. It's really creepy that a country could be taken over by that type of sycophancy. Is there something to the culture of China that made them vulnerable? Could it happen here? And if it did, what would be the proper response, fight or flight? I'm thinking flight, but isn't one of the first signs that you should leave your country the closing of its borders?
author gender:
medium:
author demographic:
free: