You find out what's going on in this 1980s (date assumed because of a cassette tape as an item of importance) British dystopia, bit by bit, just as its subjects do, so I'm hesitant to write much about it. I do think you should read it, and without knowing too much going in.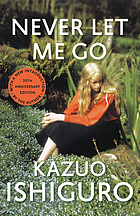 It's a rich read, giving you a lot to think about, but it's in no way dense or cumbersome to understand. The characters are incredibly realistic--I bet everyone knows a social climbing queen bee that while transparent is compelling enough in their manipulations that you still can't help but want to please them.
What I'm thinking about the most right now are the people who tried to make things better for the downtrodden. To me their ineffective liberalism is central to the novel, but I wonder how many other people identify their efforts as liberal (vs. radical) and how central it even is. I'll just have to wait for la c-dog to read the book, so we can bookclub it.
CATS: Nope. I recently tried the Cat Who series, thinking that would be a great way to up my books with cats quotient, but I couldn't get into it.
author gender:
book type:
medium:
recommendation:
author demographic: