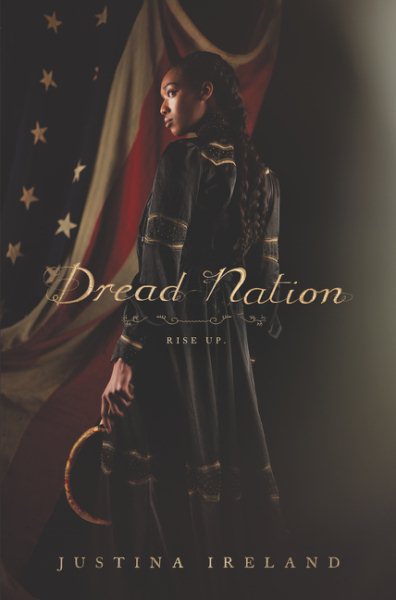 I read Dread Nation in two sections and in two media. First I had a digital reader's copy from Edelweiss, but that disappeared without warning, when the book was published in early April. It took six weeks for me to get access to the hardcover from NYPL. I also don't know how much changed from the galley to the published version. I have to admit, I enjoyed the book more when I was reading it on paper, which is disappointing because ebooks are my life. 
But, the novel itself! It's the late 19th century, and Jane is the Black daughter of a plantation owner. In this alternative historical novel, zombies rose in Gettsyburg following a certain battle that happened there. Black and American Indian kids taken from their homes and forced into segregated schools to learn zombie fighting. If they survive, they can hope for a position serving as "attendants" for rich, white folk who need protecting from the undead. The school theme was inspired by the American Indian boarding schools of the same time period, particularly the Carlisle Indian Industrial School. American Indians were stripped of their heritage, but didn't get any of the benefits of assimilation (not being viewed as other, lesser than, being referred to as livestock, etc.). There is an American Indian character in the book, but the focus is mostly on Jane and her frenemy Kate, and a couple of love interests for Jane (Kate is asexual!!!). Jane is queer, too, having made out with a fellow student. 
Ireland starts off by dedicating her book
For all the colored girls. I see you. <3
The standard keyboard heart is the best. I can't see my bookmarks from the first half of the book because of the DRC snatching. I see that I dogeared a passage where Jane tells the scientist in the weird town she's been exiled to that she contains multitudes. Black people aren't supposed to be able to read, or I guess educated beyond zombie killing, so I like that she busts out a ten-dollar phrase on Mr. Gideon. 
The novel starts at the attendant training school in Baltimore, but mistakes are made, and Jane and Kate find themselves in a very bad town in Kansas called Summerland. It is anything but warm and sunny to Black folks. That's where the "livestock" descriptor is employed. 
Jane is resourceful, strategic when she can keep her temper controlled, and witty. Kate has a few surprises, too. Zombies aren't my favorite supernaturals, but Ireland does a good job with them. I can't tell if the subtitle "Rise Up" indicates that Dread Nation is the first in a series, or if it's just a subtitle. I'm hoping it's the former because I'm looking forward to see what happens next with Jane and her friends. In the meantime, I'll be reading others of Ireland's novels.
book type:
recommendation: