With every man in her life attracted to her, why is it that Sookie can't find a decent boyfriend she can stick with? Which one would you choose?--the current contenders being, alphabetically, Bill, Eric, Quinn, and Sam. You can also consider Alcide, Calvin, or anyone else who has expressed having the hots for the telepath. I think there is one woman in there somewhere, too. Maybe her problem is having too many choices.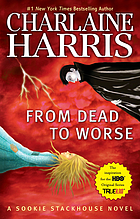 My recommendation would be Sam. I don't have the same problem with dating in the workplace that Sookie does, and I'm thinking she wants someone she can have children with, so that would rule out the vamps. Quinn could also produce babies (tiger kittens!), but this book reveals that he's got some apron string issues.
If you're wondering what else happens in this installment of the Sookie Stackhouse series, there's a lot, but sixteen hours after finishing it I don't recall there being one major plot element. That's fine, though, since its immediate predecessor, All Together Dead is very plot driven. From Dead to Worse is an engaging read with a focus on family. Something happens on the last page that has nothing to do with boys or supes that made me tear up a little.
author gender:
book type:
medium: