I have one serious complaint about Bossypants, and that is that its Cataloging-in-Publication data completely misses that it's a book about feminism. I'd like to see one or more of the following:
Sex role on television
Sex discrimination against women
Feminists
Women on television
Women comedians
Women television producers and directors
Feminism and television (doesn't exist, pattern Feminism and motion pictures)
Feminism and comedy (doesn't exist)
Content-wise, Bossypants is a kick-ass book that I was sorry to see end. And I laughed out loud while reading it. On a New Jersey Transit train. Ask Eric if you don't believe me. I made him read passages at least three times.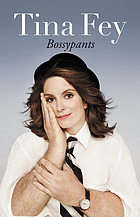 Some highlights:
A reference to "the guys who wrote the bible" on p. 107
"In 1997 I flew to New York from Chicago to interview for a writing position on Saturday Night Live. It seemed promising because I'd heard the show was looking to diversify. Only in comedy, by the way, does an obedient white girl from the suburbs count as diversity." p. 119
The title isn't a total tease; there are some useful insights about being a boss, like "The point is, Lorne did not do what I would have done, which is to say, 'You're being crazy. Get back in here. Everyone else is here. Do you think you're more important than everybody else?' He also didn't coddle me, which is what I would have done if I were trying to overcompensate for my natural sternness. 'Are you okay? If you need to take a couple of days off, I'm sure we can manage, blah, blah, blah.'" (My tendency is to think the first and say the second.) She goes on "Instead, he found a way for me to slip back in the door like my mental breakdown never happened. 'We're ordering dinner. What do you want?'" p. 131
Google Books really doesn't want me to share Ms. Fey's answer to questions about the difference between male and female comedians, and I don't feel like typing the whole thing. I'll just say that it's smart, astute, funny and talks about male comedy writers peeing in cups because they're too lazy to go to the bathroom and male producers not greenlighting a Kotex joke because "They didn't know what a maxi pad belt was... Sometimes they just literally didn't know what we were talking about." p. 136-141
I figured out how to get Google Books to talk to me again:

Someone else (Jessica Blanchard) was kind enough to type out the next quote, complete with a set-up:
During her improv days with The Second City, casts were constructed of four men and two women. Producers and directors balked at the suggestion of distributing the roles between three men and three women, arguing that there wouldn't be enough parts to go around. Fey remembers, "This made no sense to me, probably because I speak English and have never had a head injury. We weren't doing Death of a Salesman. We were making up the show ourselves. How could there not be enough parts? … The insulting implication, of course, was that the women wouldn't have any ideas." Years later in her career, on the night she launched the Palin impersonation alongside Poehler's Clinton, Fey reflects on how far she's come. "That night's show was watched by ten million people, so I guess that director at The Second City who said the audience 'didn't want to see a sketch with two women' can go shit in his hat." [emphasis added because fuck you sexist director and all of your ilk]
"I know older men in comedy who can barely feed and clean themselves, and they still work. The women, though, they're all 'crazy.' I have a suspicion that the definition of 'crazy' in show business is a woman who keeps talking even after no one wants to fuck her anymore… Even if you would never sleep with or even flirt with anyone to get ahead, you are being sexually adjudicated by these LA creeps. Network executives really do say things like 'I don't know. I don't want to fuck anybody on this show.' (To any exec who has ever said that about me, I would hope you would at least have the intelligence and self-awareness to know that the feeling is extremely mutual.)"
Also, the word "sweaty" appears five times. It was noticeable enough that I thought it was more. "Sweat" and "sweating" once each.
Cats: okay, two serious complaints
author gender:
medium:
recommendation: