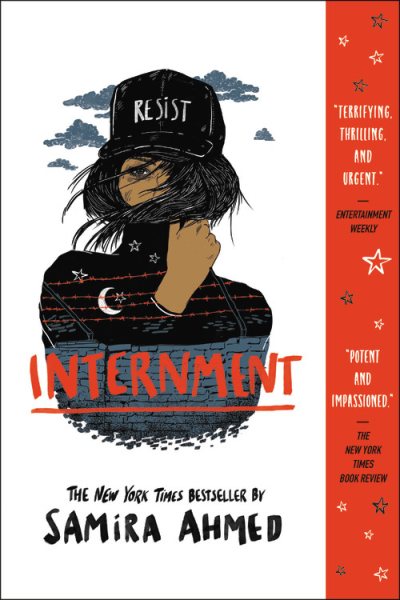 Ahmed envisions Muslim internment camps under a fascist president, which feels all too real and makes you wonder if they aren't already in the works. Or maybe internment is still just for Latinx children? Internment is a story of resistance, by any means necessary. I was inspired by its better to die on your feet than live on your knees message. The teens in protagonist Layla's camp push for change, where their parents want to get along, keep quiet, survive.
They want to bide their time until one day we are magically released and the president isn't some raging fascist.
 

That will be never.
But Layla and her friends, with some necessary help from allies, aren't playing.
I thought our little liberal college town would fight it longer, hold out. Some did. But you'd be surprised how quickly armed military personnel and pepper spray shut down the well-meaning protests of liberals in small, leafy towns.
This fiction is so real it's horrifying. It made me ask myself, what am I prepared to do. And I don't have an answer.
For the Jews in the back, in case you missed it, internees wrists are stamped with UV IDs. "Permanent, the man explains, like an automaton."
We're being pressed by fear and hatred and the law.
Ahmed calls the legislature out. It's not just whoever you think "people" are. It takes a lot for a law to get made. The assholes who are just following orders, while not justified, are, in fact, following orders.
Layla observes that even the library at the camp is oppressive. "all the internment-approved titles are by long-dead white dudes."
For the Palestinians in the back, in case you missed it (which I'm pretty sure you didn't), "But we don't disperse. Someone from the back of the gathering throws a rock." The rock hits someone from the security team. Then the camp director fires a shot in the air and enjoys the internees screams.
I hope this book gets all the acclaim that The Hate U Give did and gets made into a movie, too.  They are similarly ravening stories about taking out what is foul in America.
recommendation: