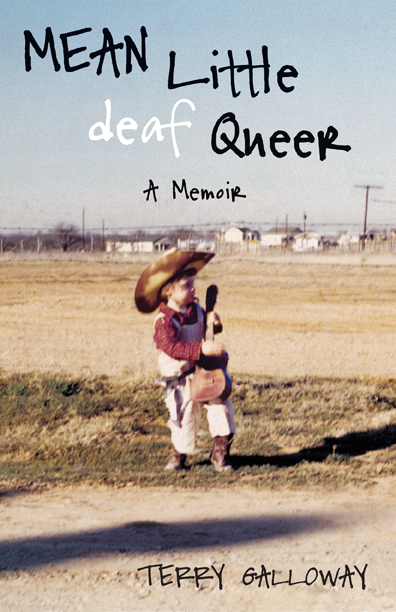 This was the first time I borrowed an ebook from the Columbia University Libraries. It's an ebrary download, and uses the Bluefire platform, which I'd already downloaded for NetGalley reads. Pretty thrilling.
Anyway, theater artist Terry Galloway provides a tidy summary in her book's title. She begins to lose her hearing around the age of seven, having been exposed to a drug in utero that nearly killed her mother. The hearing loss comes with astral projection and hallucinations. There's a streak of ESP in Terry's family on I forget which side, so it's possible some of the visions are separate from the deafness.
The one word in the title that doesn't seem apt is "little." Growing up mostly in Texas, everything Terry does is big. I don't recall her mentioning her height and her descriptions of her physique can be contradictory. Maybe she's short? But her persona is large; she's an actor, after all. Even as a kid, still struggling with mid-twentieth century hearing tech, she plays character roles in school plays, and, after a lot of hard work, meaning she can't rely on physical comedy, Emily in Our Town.
But that was after she'd done some hard emotional work, too. Here she describes her initial reaction to dealing with her imfirmaties, "Since being diagnosed and 'fixed,' I'd felt miffed as a neutered Tom. I was mad as hell that I had to wear the glasses and hearing aids, not just because they made me look ugly but because they slowed me down. I couldn't run or even trot without the glasses misting up or the hearing aids bouncing and beeping. Spur-of-the-minute physical furn and feral daring were nixed."
Even with her working class hearing aids and being banished to wardrobe by an ignorant theater director at the University of Texas, Galloway manages to build an impressive career for herself in what I only know how to describe as "downtown" theater: fringe, performance art, topical stuff, ensemble-created works, queer-as-in-unusual, as well as queer-as-in-who-you-have-sex-with, etc.
She's a good writer, as evidenced by that "neutered Tom" passage I quoted above. Her writing isn't Texas or actory big, nor is it little, even as it's clear there's a lot of the big that Galloway leaves out. She references but doesn't get into her depressions and substance abuse. Her epilogue is called "A Happy Life...," which I think is nice. I'm glad for her and for anyone who goes through tough times and comes out of them (most of the way, right?) with nice things to say about their logical and biological families and partner.
author gender:
book type:
medium:
recommendation: