Last year I read and enjoyed Nguyen's childhood memoir Stealing Buddha's Dinner, so I was way psyched to learn that she had a novel out. In some ways, this story of two sisters takes place where the memoir left off, although with a different cast of characters. The women, born in the US to Vietnamese immigrant parents about a year apart, are in their late twenties and facing what some call the Saturn Return. The older one, Van, is having marriage woes, and the younger Linny has boyfriend problems and also a (related) job crisis to deal with. Plus with their mother is long dead, and their father is only semi-capable of taking care of himself, good Asian girls are expected to pick up the slack.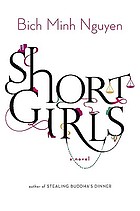 The father character rings especially true--a demanding person who expects his daughters to do everything for him, and never thanks them. I don't know if this type of man's influence is one that causes women to become writers, but he is of a type that is familiar (but not cliché!) in the novels I read. The father in Short Girls, Dinh Luong, an inventor who devises tools to make life easier for short people, has yet to patent or sell any of his devices (e.g. the Luong Arm). The whole disadvantaged short people thing (I hear that!) runs parallel to the plight of nonwhite immigrants in America. "We live in a tall American world..." and "She had been standing on tiptoes her whole life."
The other major theme is the relationship between the sisters. Allies as children, they become distant in adolescence and remain brittle with one another as adults until personal traumas leave each isolated and needing family. I used to tell my sister that she was the person I most loved and hated in the world, so profound and challenging is the relationship between sisters close in age. However the same things that drive the contention between sisters also facilitate their solidarity.
author gender:
book type:
medium:
recommendation:
author demographic:
free: