Tagged with bipolar disorder
Cartoonist Ellen Forney is completely forthcoming in her account of how she coped with getting diagnosed with bipolar disorder and accepting that she'd have to be on meds the rest of her life. Aside from her frustrations with her highs and lows and the drugs that often failed to smooth them out, the central thesis of Forney's graphic novel style memoir is her fear that medication will erase her artistic talent and identity.
recommendation:
author demographic:
medium:
author gender:
Why is it I can never do my favorite books justice when it comes to reviews? I've been telling everyone to read this book about a young woman teaching ESL after having left Columbia University for St. Luke's psych ward for treatment for bipolar disorder. She somewhat inexplicably falls in love with one of her students, a Chinese dissident. The story is told half in Morningside Heights just post-Tiananmen and St. Luke's and half in Beijing at the turn of the 21st century. I loved reading it, but why? The writing is really good. Want some quotations...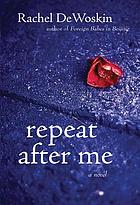 book type:
recommendation:
author gender:
medium: