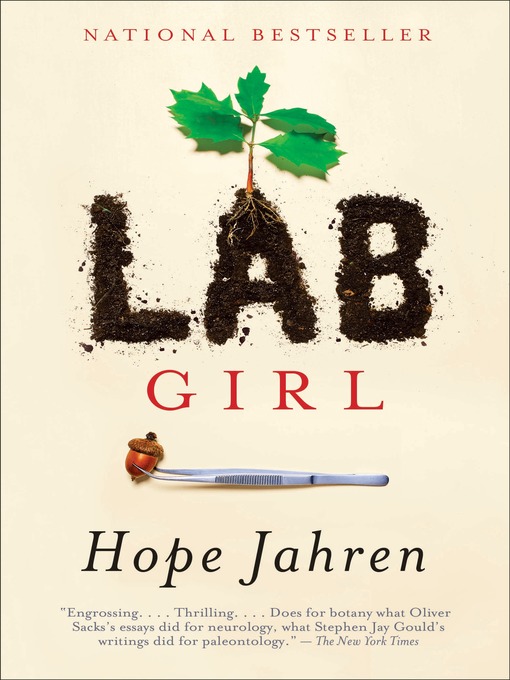 I'm a little afraid of plants, so there are parts of this memoir/botanicobiography that I had to skip. To be honest, it's not just my slight phobia (how plants grow and mutate--that's legit creepy, though, amirite?), I find straight-up nonfiction dull. I need people, people!
In fact I wanted more about the people, more about Jahren's childhood and college, how she got her jobs at Johns Hopkins and then U Hawaii, about the awards she won--and not just from her bio at the very end. But, to be fair, Jahren does warn the reader about her lack of verbosity, as she recounts her taciturn first family culture--Midwestern Scands.
Some of my other reactions and thoughts...
Chapter two begins "Like most people, I have a particular tree that I remember from my childhood."
That sounds a little absurd, right, to assume that most people have a memorable childhood tree? But I totally do--a crabapple tree near the driveway of the house I lived in from 2nd-9th grade in Westfield, NJ.
A lot of the story is about Jahren and her research partner, Bill, who is her bestie, but also her employee because he's not a professor. He finished his BA at the same time Jahrens earned her Ph.D., both from UC Berkeley, and he followed her around the country/planet from there, serving as her lab manager and more. I found it creepy when she says she was unable to pay him at one point (due to lack of funding) and then soon after has enough money to buy herself a house, but maybe that's some science culture thing I don't get? Jahren does explain how funding works for academic science researchers, and it's pretty gruesome. Science professors are so worded about keeping their labs going, it's a wonder they have any brainpower left for teaching or research. She challenges the idea that there's any deficit of scientists, saying that there are more scientists than there is funding to keep them all busy.
There's this tidbit Jahrens quotes from a night custodian at one of her labs, which is universal,
"However much you love your job, it ain't gonna love you back."
Occasionally there are bits of the more strictly science sections that move me, like the mystery of trees above the tree line back in the day (the day being 45M years ago), when Jahren observes, "The discovery of trees that could live in the dark is akin to a discovery of humans that could live underwater." Still creepy to me, but whoa.
book type: